fitness-centre-massage-therapy
The Club Poolside's central feature is the main 25 metre Swimming Pool, which is used both by serious swimmers and for family fun. Dedicated lap lanes are reserved for serious training, while at weekends floating toys are added for everyone's enjoyment. Other fun activities include galas and special events such as the polar swim on New Year's Day when huge icebergs invigorate the bravest swimmers.
Plenty of loungers and shaded seating can be found adjacent to the pool, where Members can relax, enjoy a cool drink or eat from the Club's extensive poolside menu.
The Silom Wing includes the Kiddies pool, next to the playground and the rest of the family facilities. Ideal for the under 8 year olds, this area is a magical place for kids to burn off energy, splash and play and, with lots of nearby seating for parental supervision.
Private swimming lessons can be booked with Registered British Club Trainers: For more details, charges and bookings, contact the Sports Desk for sports@britishclubbangkok.org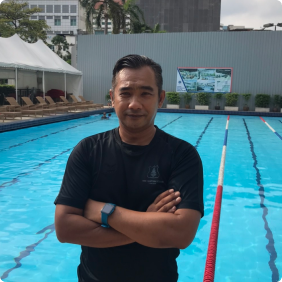 Thai. After graduating in Physical Education, Khun Amnat has been coaching swimming for 26 years. He previously worked at The Mall Water Park and Isarapan Court. He has been working at the British Cub since 1998 and is a Thailand Swimming Association qualified Beginner Level 1 Coach.
Saturdays 9-12 am for adults and children from 4 years old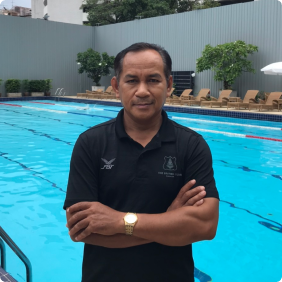 Thai: Began swimming when 4 years old. Graduating in Sports Science, Khun Rit has been teaching swimming for 25 years, previously working at Mahachai Water Park and The Mall, Bang Kae Water Park. He has been working at the British Cub since 1998.
Sundays 9-12 am for adult and child beginners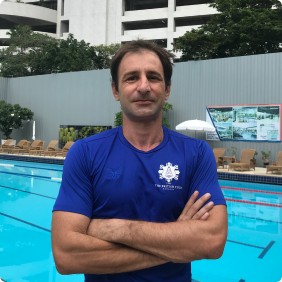 French. Tony is the Founder and Head Instructor of Swimming Bangkok. He has been a full time swimming instructor for more than 10 years and teaches children from the best International Schools including Patana, Shrewsbury, St Andrews, Bangkok Prep, NIST and ISB. Certified by Swimming Australia, Tony also teaches adults of all ages, no matter how afraid of the water they are! Swimming Bangkok was created out of passion, with a strong will to pass on Tony's love of swimming to all his learners.
Thursdays 7-8 am for anyone who can swim front crawl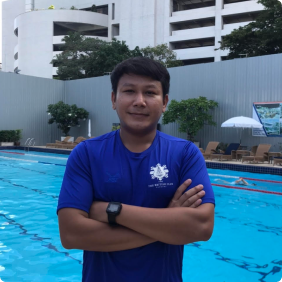 Thai: Has been swimming competitively since he was 6 years old. He is a certified Thailand Swimming Association Level 1 coach, and has now been teaching swimming for 11 years. Kru Petch especially enjoys working with children but teaches all levels from beginners to experienced swimmers. His goal is to make sure kids and adults learn to swim safely but, just as importantly, have fun.
Group coaching Sunday 9 -12am and Private coaching any time