Personal Training & Coaching
The British Club offers a wide range of registered trainers and coaches for individual Member and group sessions, some offering special services for juniors
Training may only be organised with registered Club personnel.  All sessions must be booked and paid for through the Club. Availability may be limited during busy periods.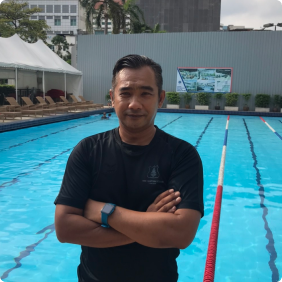 Thai. After graduating in Physical Education, Khun Amnat has been coaching swimming for 26 years. He previously worked at The Mall Water Park and Isarapan Court. He has been working at the British Cub since 1998 and is a Thailand Swimming Association qualified Beginner Level 1 Coach.
Saturdays 9-12 am for adults and children from 4 years old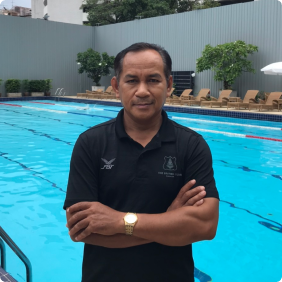 Thai: Began swimming when 4 years old. Graduating in Sports Science, Khun Rit has been teaching swimming for 25 years, previously working at Mahachai Water Park and The Mall, Bang Kae Water Park. He has been working at the British Cub since 1998.
Sundays 9-12 am for adult and child beginners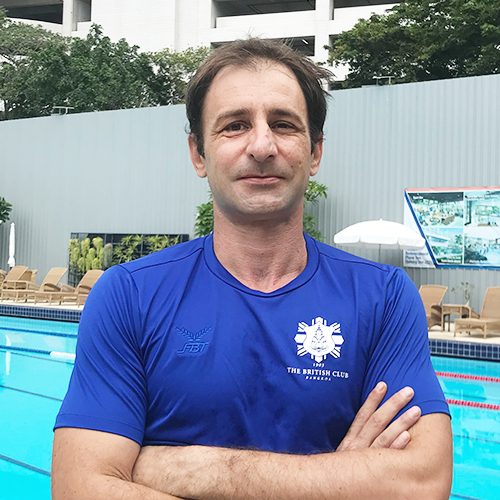 French. Tony is the Founder and Head Instructor of Swimming Bangkok. He has been a full time swimming instructor for more than 10 years and teaches children from the best International Schools including Patana, Shrewsbury, St Andrews, Bangkok Prep, NIST and ISB. Certified by Swimming Australia, Tony also teaches adults of all ages, no matter how afraid of the water they are! Swimming Bangkok was created out of passion, with a strong will to pass on Tony's love of swimming to all his learners.
Thursdays 7-8 am for anyone who can swim front crawl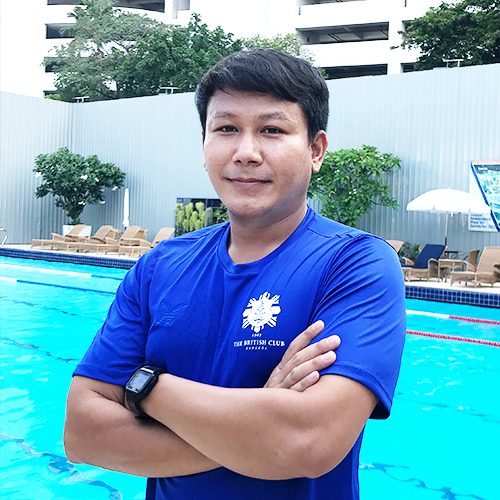 Thai: Has been swimming competitively since he was 6 years old. He is a certified Thailand Swimming Association Level 1 coach, and has now been teaching swimming for 11 years. Kru Petch especially enjoys working with children but teaches all levels from beginners to experienced swimmers. His goal is to make sure kids and adults learn to swim safely but, just as importantly, have fun.
Group coaching Sunday 9 -12am and Private coaching any time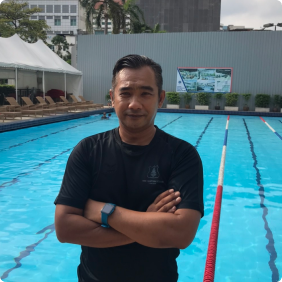 Thai. Graduate in Physical Education. Personal Trainer for 10 years
Qualifications: Personal Training from Fitness Innovations Thailand (FIT); Advanced Muscle and Strength Development from  Fitness Innovations Thailand (FIT); Fitball from  Fitness Innovations Thailand (FIT); 2019  Rehab FX Trainer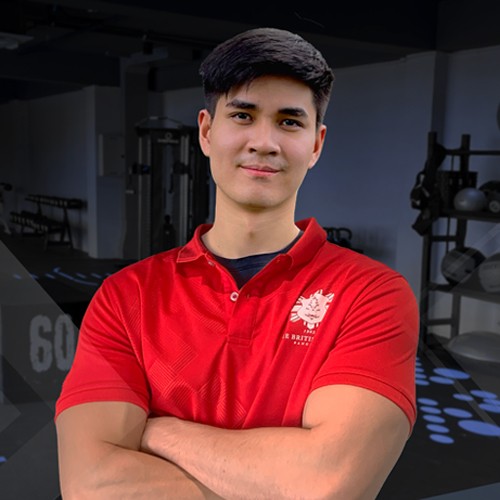 Thai.
Bachelor Degree from

Mahidol University 

International College

Personal Training, Nutritionist,

and CPR 

Certified from 

International Sports 

Sciences Association (ISSA)
1 on 1 Training
Functional Training
Weight loss
Strength Training
Mobility Improvement
Rehabilitation
Sport Performance Training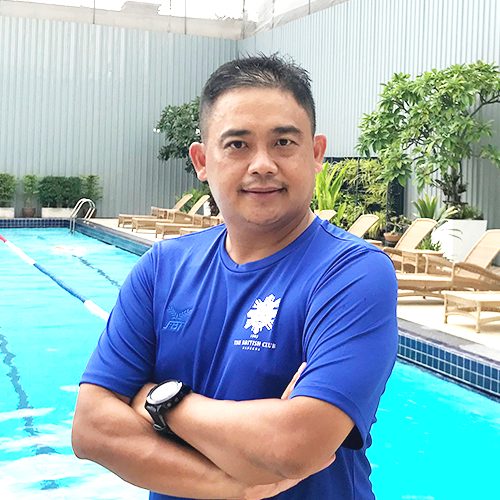 Lim: Thai. Playing squash since 12 years old, representing his school and club at Vajiravudh College. After giving up squash for some years, Lim qualified as a World Squash Federation (WSF) Level 1 Coach, after training with leading squash coaches in Singapore. He has since participated in many international squash masters tournaments. Teaches from beginner to intermediate level.
Junior Squash coaching available 10.30 to 12.00noon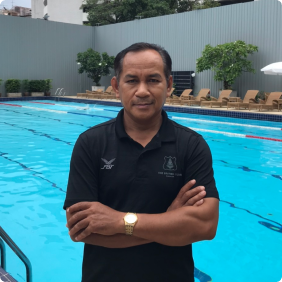 Thai: Graduate in Sports Science. Coaching squash at the British Club since 1999
Teaches from kids 5 years old
Khun Rit  have training from coach Khun Narongrit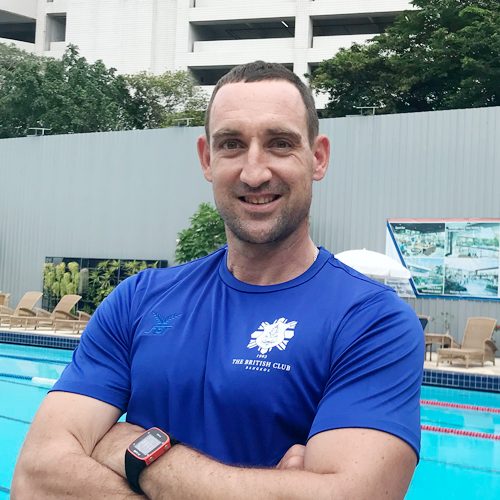 Daniel Jacobs is a qualified Level 1 cricket coach from South Africa. Daniel specializes on the fundamentals of junior cricket. He captained the Thailand National Cricket team in the World Cricket League series as well as the T20 World Cup qualification tournaments. Daniel is the highest Premier League run scorer with a highest score of 203*.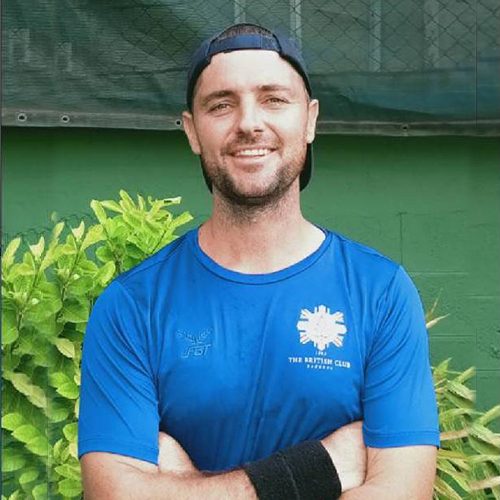 Joe Drew: British. Playing tennis since 6 years old. 21 years coaching experience, working up to head coach at David Lloyd Club Basildon HPC (high performance centre).  Now Head Coach and a shareholder at Le Smash Club and Tennis Academy, Bangkok.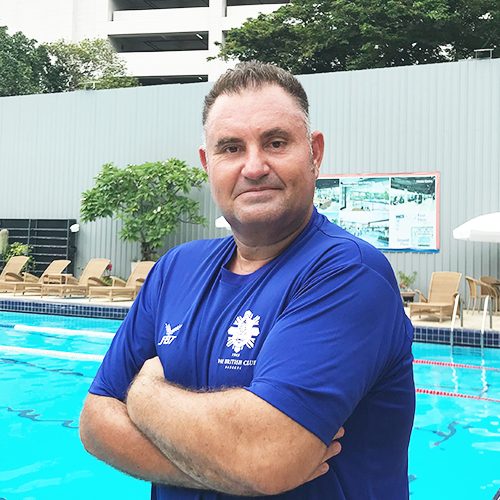 Marcel Petit: A professional coach with over 25 years' experience, graduating through the French Tennis Association Coaching system. Coaching positions held include Director of Tennis at several Clubs, Head of Junior Development / Technical Director at Tennis Federation of Vietnam, and Head Coach at Hope Tennis Academy in Taiwan.
When teaching Marcel pays close attention to the biomechanics of tennis movement, enabling major or minor adjustments,  allowing everyone to discover and optimize their own swings. A variety of different packages are offered to suit all needs. Mr. Petit's tennis career was detailed in Outpost magazine April 2020.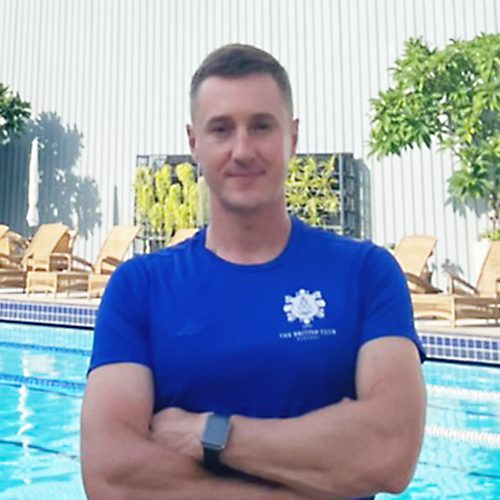 Andrie: Professional tennis coach from Russia. Ex professional player reaching #4 on Russian tour.  Professional coach more than 15 years, working in Russian, European and American academies.
Teaching methodology includes several stages of learning physical, technique and strategy, as required for the modern game. Training with kids uses ITF 10`s system from 4 years old. Beginners of different ages and levels. Working with advanced players and ITF seniors in groups and individual lessons. Teaching includes drills to improve technique and footwork without injuries. Using this high-performance program Andrie helps young players with their future professional career, beginners and advanced players to get better tournament results.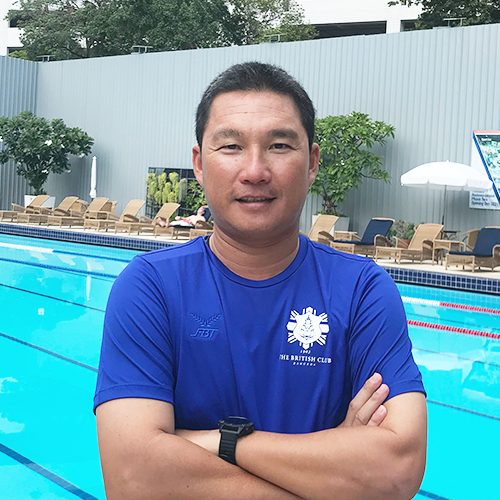 Akkasit Tepkasikul: Thai: Coaching for 13 years with Junior (ITF Top 100) and ATP/WTA players. Career mostly working with high level players but also can work with children and adult clients. Besides tennis skills, you will learn to respect to other, self-discipline, responsibility, fun and sportsmanship.
Training Qualifications include GPTCA (Global Professional Tennis Coach Association) Level C Certified by ATP . Career Highlights include: Highest Single ITF Junior world Ranking #68, Highest Double ITF junior world Ranking # 80: 1999 Represented Thailand Tennis National Team in ASEAN University Game, Bangkok Thailand (2 Gold Medals and 1 Silver Medal). Highest Single National Ranking # 4.Highest Double National Ranking # 8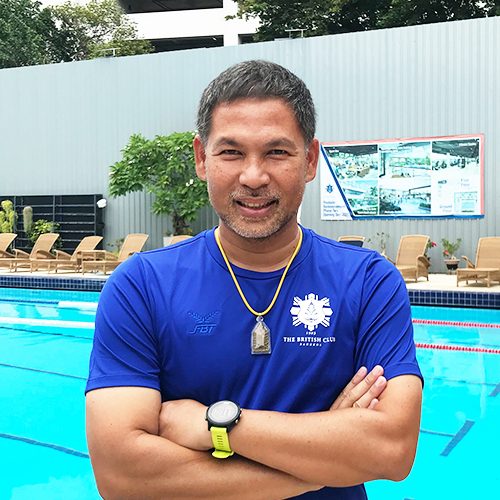 Sirimongkol Kedbhatara (Nueng): Played tennis since 15 years old, coaching at all levels for over 20 years. Certified ITF level 1 Tennis Coach. Extensive coaching experience including Pakistan Davis cup team, Thailand junior tennis players, Khabarovsk tennis academy in Russia and over 10 international schools in Thailand (Tennis10s). Playing record includes Thailand Champion senior Master games (Single) and Thailand Champion national senior games (Doubles)-Over 100 trophy Open and Senior tournament.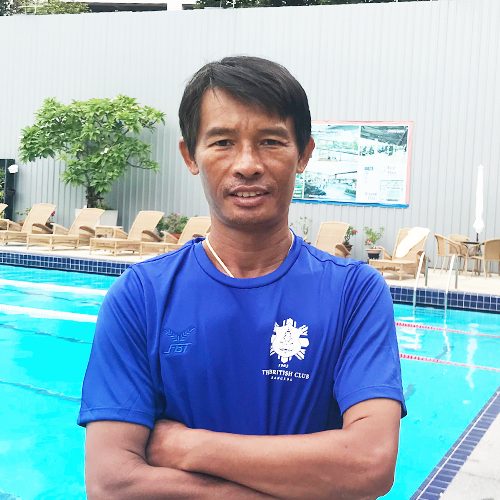 Kwanchai Bonchu (Kwan): Thai.  Started playing tennis at the age of 14 years. Played youth and adult competitions winning many championship and runners-up positions. Involved in organising Club competitions and competed at men's and senior level winning multiple singles and doubles tournaments. Previously taught tennis at the Central Club and B.B. Courts before moving to the British Club around 2008.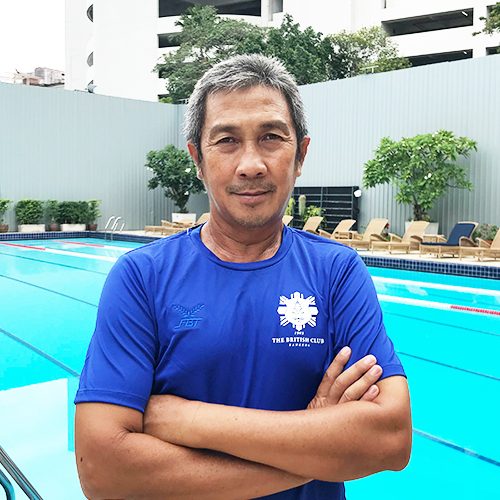 Sorasak Phongsawat ( Puak ): Thai. Started playing tennis at age of 8 years old  and competed in the Thailand Youth Championship not older than 14 years ranked in the top ten in Thailand (Youth) and have competed in national sports in the name of District (District10). In 2020 won the Thailand men's double 45 years, won the Hua Hin open 90 years championship two times in a row and the Singha TATP championship two times.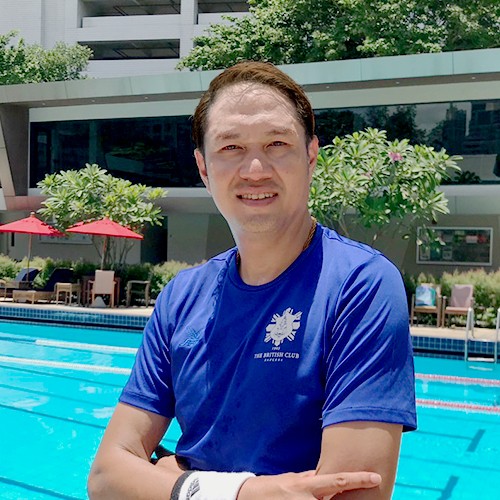 Pannawat Kraiwong (Tob)
Born 19th September 1979
Education
Bachelor's degree Sports science Mahidol University
Master's degree Sports science Kasetsart University
Tennis profiles
Champion & Runner up Junior age group 12-14-16 years old Southern Thailand
3 Gold & 1 silver medal of university games
35+ Runner up Thailand senior tennis championship
7 years head coach for Bangkok sport school
Physical trainer for Thai tennis team (Sea games)
3 years Assistant coach for Bangkok Junior tennis team
Soft tennis coach for junior players